London - The first Western tanks began arriving in Ukraine this week, prompting speculation that Ukraine may soon launch a counteroffensive against invading Russian forces and whether the more advanced weapons will turn the tide of the war in Kyiv's favor.
Ukrainian Defense Minister Oleksii Reznikov posted a video on Twitter this week showing him on board a British Challenger 2 main battle tank, or MBT at an unidentified location in Ukraine.
"It was a pleasure to take the first Ukrainian Challenger 2 MBT for a spin," Reznikov wrote in his March 28 Twitter post. "Such tanks, supplied by the United Kingdom, have recently arrived in our country. These fantastic machines will soon begin their combat missions."
A total of 14 Challenger 2 tanks are being sent to Ukraine. British Defense Minister Ben Wallace said Wednesday he could not speculate on any upcoming Ukrainian offensive.
"But I think it is no secret Ukraine is keen to start the process of rolling back Russian forces in the conflict. Obviously, the Russian forces are making almost no progress whatsoever," Wallace told reporters.
Embed share Western Tanks Arrive in Ukraine: Will It Turn War in Ukraine's Favor? Embed share The code has been copied to your clipboard. width px height px
No media source currently available
German Leopards
Chancellor Olaf Scholz confirmed Monday that Germany had already delivered 18 of its advanced Leopard 2 tanks to Ukraine, among the most highly regarded MBTs in the world. Canada and Norway have also dispatched several of their Leopard 2 tanks. Poland, Spain, Finland and the Netherlands have also pledged to send Leopard tanks, although the total numbers have not been confirmed
European commanders say it could tip the balance in favor of the Ukrainian forces.
"Now, [the Ukrainian forces] are in a kind of defensive position against more than 300,000 Russian combatants. Maybe not the best trained or best equipped combatants, but they are facing this kind of tsunami of soldiers, so they are holding the front line," Vice Admiral Herve Blejean, commander of the European Union training mission for Ukrainian forces, told the Reuters news agency earlier in March.
"When they will be able to involve better tanks like the Leopard, they will be able to breach through and to look at counterattacking. At the present time, they are fighting for Bakhmut. They are doing a fine job, but the balance of forces is not in their favor," Blejean added.
FILE - Ukrainian and Polish soldiers sit on top of a German-made Leopard 2 tank during training at a military base and test range in Swietoszow, Poland, Feb. 13, 2023.
Counteroffensive
It's unlikely Ukraine has enough Western tanks to launch a major counteroffensive imminently, said Patrick Bury, a military analyst at Britain's University of Bath.
"How many are there now? Maybe between 30 or 40, given the numbers that were pledged. At the moment, it's probably not enough, would be my hunch. But it's still fairly significant," Bury told VOA in an interview March 30.
"A battalion or two can form a spearhead. If they're all used together, you wouldn't want to be an infantry solider in a foxhole facing 40 of these tanks if they're used correctly," Bury said.
In an interview with the Japanese newspaper Yomiuri Shimbun this week, Ukrainian President Volodymyr Zelenskyy said his forces need more Western weapons before launching any counteroffensive.
"We are waiting for ammunition to arrive from our partners,' Zelenskyy said. "We can't start yet. We can't send our brave soldiers to the front line without tanks, artillery and long-range rockets."
Coordination
Bury said it's crucial that the new weapons are deployed in a coordinated way.
"The question is, can Ukraine protect, use and concentrate the Western weapons to such an effect that they can break through better-prepared Russian lines? It's not just about tanks. It's about the armored infantry fighting vehicles. They accompany the tanks. It's also about the artillery pieces - the rounds that they need for their own guns, and the new artillery pieces that are coming in, as well.
"So, it's how you put the whole package together to achieve the combined arms breakthrough if that's what you're going to do," Bury said.
Spring thaw
Ground conditions are changing rapidly along the front line. The spring thaw will turn frozen fields into quagmires.
"It just makes movements and maneuver more difficult. And therefore, that favors a sort of stagnation or a lack of offensive action in the open- big maneuvers around cities. The urban fights, of course, can go on," Bury said.
Western nations have pledged dozens more tanks and other heavy weapons in the coming months. The United States is sending 31 Abrams MBTs, though these aren't expected to arrive in Ukraine until the end of the year.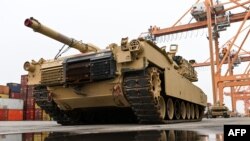 FILE - A U.S. M1A2 Abrams battle tank intended for use during military exercises by the 2nd Armored Brigade Combat Team, is unloaded at the Baltic Container Terminal in Gdynia, Poland, Dec. 3, 2022.
Slovakia this week sent Ukraine four Soviet-era MiG-29 fighter jets, with nine more to follow. Poland also plans to send several MiG-29s. Ukrainian demands for U.S.-made F-16 fighter jets remain unanswered.
Morale
British intelligence reported Thursday that Moscow is poised to launch another recruitment drive to sign up an additional 400,000 troops.
With both sides preparing for a long war, any breakthroughs on the battlefield will likely be limited, Bury said.
"How prepared are [the Russians] going to be? They're going to be much more prepared than they were in Kharkiv last year, when the Ukrainians had a massive breakthrough," he said.
"One thing to look for, though, is morale and cohesion, because you still have to have the will to fight if you're going to get bombarded in your lines. And that is something where there is a question mark over the Russians. There definitely isn't that question mark over the Ukrainians. And that could prove decisive," Bury said.